Are you looking for a sushi restaurant in Poblenou? You've found it! Discover Monster Sushi and try the best sushi in Poblenou at home, at work or wherever you want.
If you are in Poblenou, order sushi at home through our website or by calling us, we will bring it to you in record time!
Let yourself be surprised by a unique experience at Monster Sushi. Enjoy a tasty and original gastronomic offer, designed and made from the passion, fusion and respect for Japanese culture. Take advantage of our sushi delivery service in Poblenou and eat the best sushi wherever and whenever you want.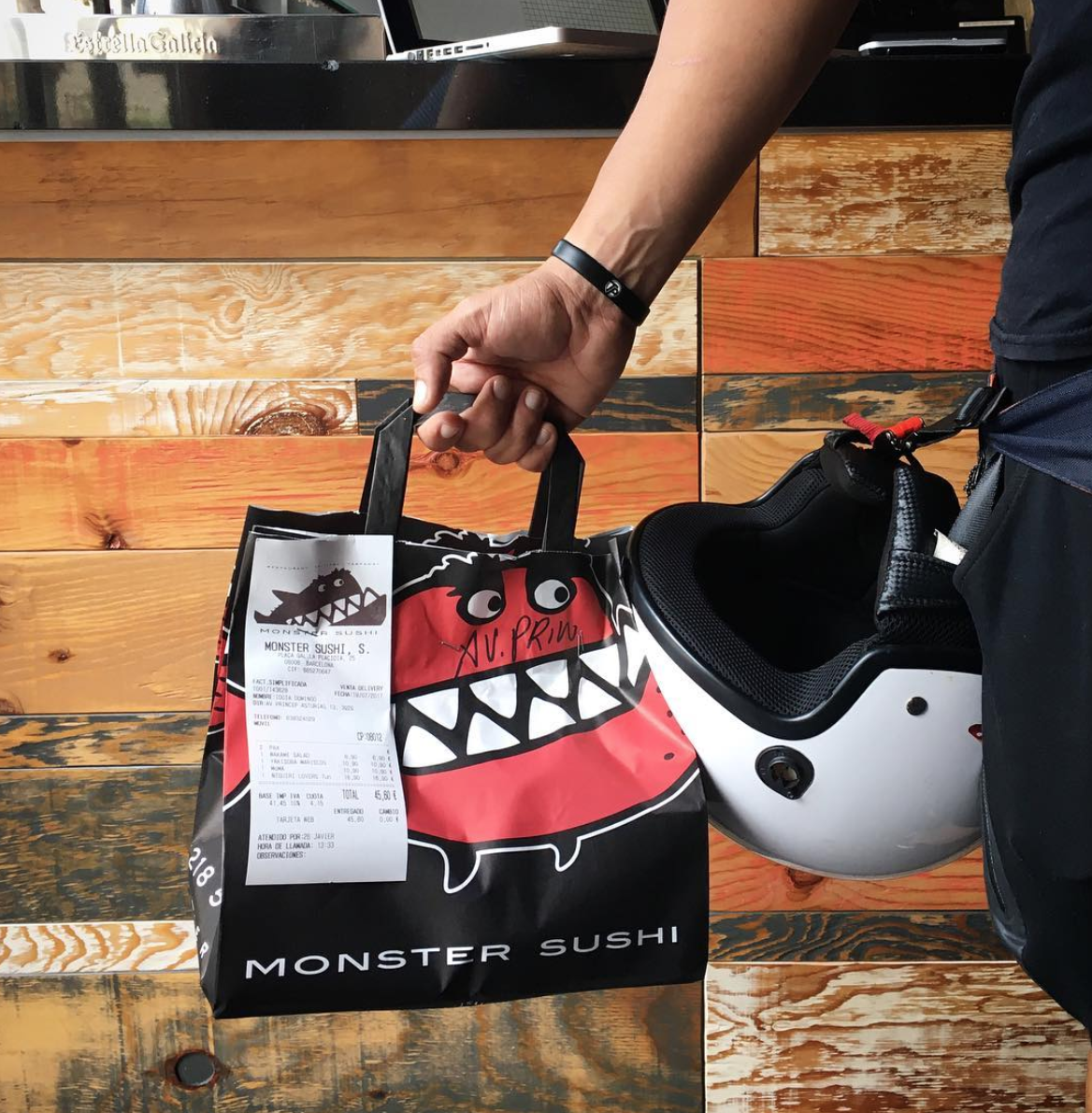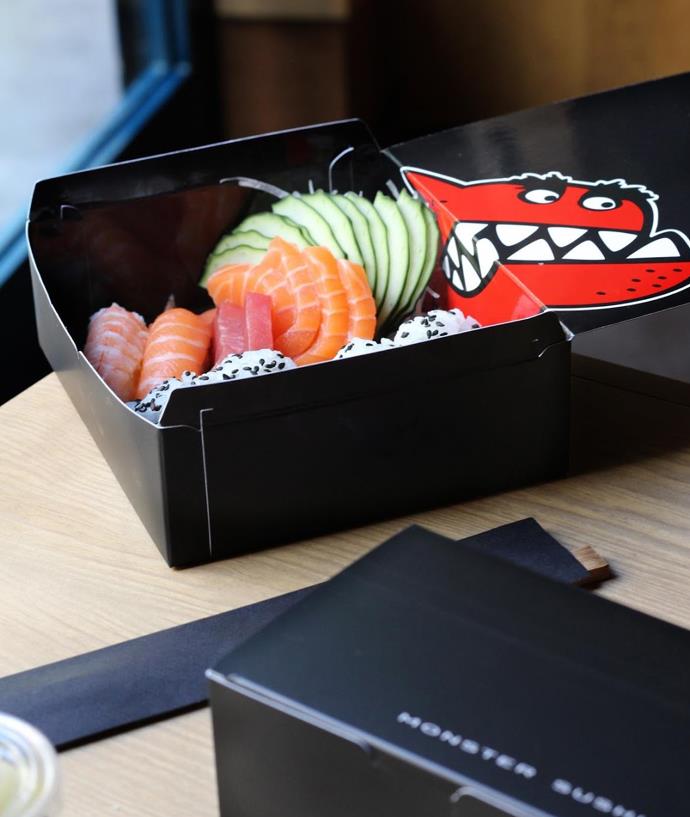 Order sushi at home in Poblenou
To create an experience that differentiates Monster Sushi from other Japanese restaurants is our mission. To do this, it is essential to have the best ingredients. The quality of our products is essential for customers to enjoy an experience that meets their expectations. An excellence that customers notice and value every time they order sushi in Poblenou.
We surprise our customers through a tasty and original gastronomic offer thought and made from passion. We combine traditional techniques with high quality local products. All this, to become the place to be for those looking to experience something new, for those who want to learn and be surprised by the best sushi in Poblenou.
We pay attention to all the elements that are part of your Monster Sushi experience.
We want you to enjoy Monster Sushi to the fullest with a close and respectful attention from our waiters and delivery staff. 
We take care of every detail so that everything is up to your expectations, such as the plating, the decoration, the lighting, the packaging?
Monster Sushi is a melting pot where diversity and mixture provide a differential value, both in the flavors of the dishes and in the atmosphere.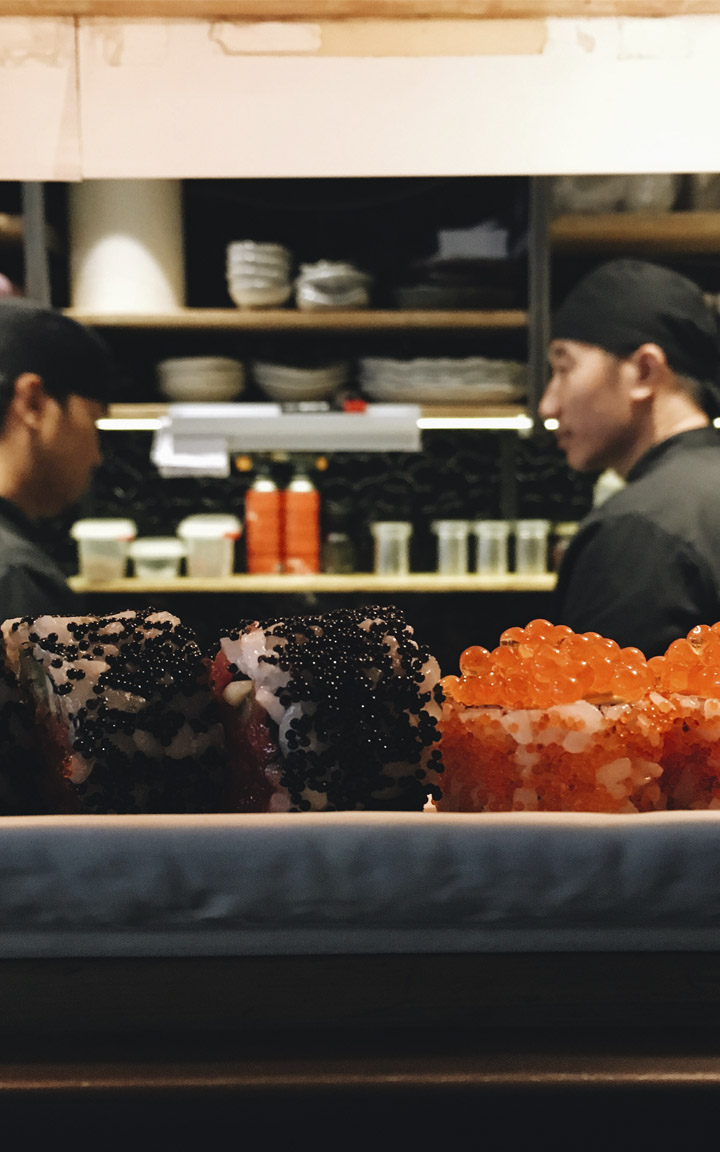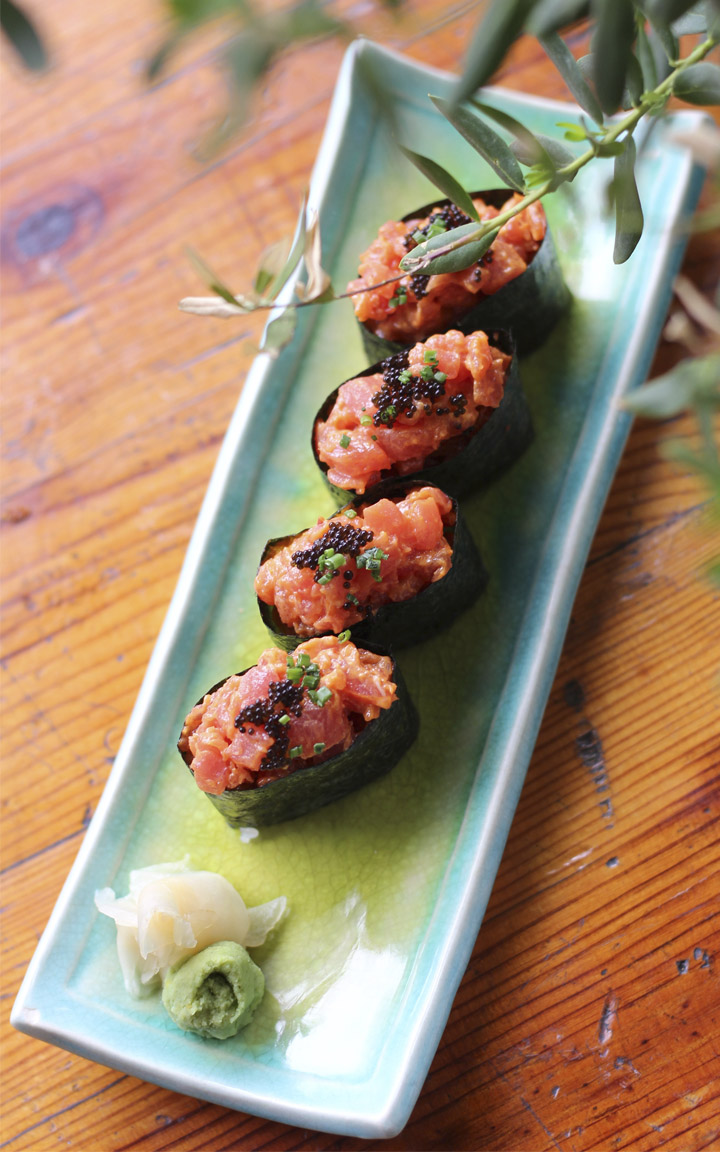 Essential ingredients for sushi
There are many ingredients that can be used to make sushi. However, some are essential, such as rice. Rice is the basis of Japanese cuisine. There are over 2000 different varieties of rice that vary in shape, colour and starch content. At Monster Sushi, quality comes first, which is why our rice has been carefully selected. A soft and sticky rice, two characteristics that make it perfect for ordering sushi in Poblenou.
Rice is a key ingredient when it comes to making good sushi. While it is true that the quality of sushi is measured by the quality of the fish it contains. Rice, which is often overlooked, is the foundation of a good piece of sushi. Making rice is a laborious process, requiring great meticulousness to achieve the perfect point. It is prepared by cooking Japanese white rice, short- or medium-grain rice of superior quality, with the required amount of water in the rice cooker and a kombu seaweed. It is then mixed with sushi-zu, a mixture of rice vinegar, salt, and a sugar mixture, and fanned to cool.
The perfect accompaniment to your order of sushi in Poblenou
One of the most representative ingredients of Japanese food is wasabi. In almost all sushi restaurants, when you order a sushi platter, the pieces are accompanied by two essential items: wasabi and pickled ginger.Wasabi is the stem of the wasabia japonica, a plant that grows near cool mountain waters. The wasabi we know is a green paste or powder that stands out for its spicy flavor.
This complement is vital, as it enhances sushi, rice dishes and raw fish. Wasabi is not a condiment that we take alone, as in this case it would be very spicy. When eating sushi with wasabi, you should check that the piece does not have it beforehand. Many sushi masters already include it in the sushi pieces, placing it between the rice and the fish. Speaking of masters! Our classic nigiris have that little bit of wasabi, but you can ask the waiter to remove it. In short, with much, little or no wasabi, at Monster, you can enjoy these gastronomic adventures with your Japanese home delivery in Poblenou.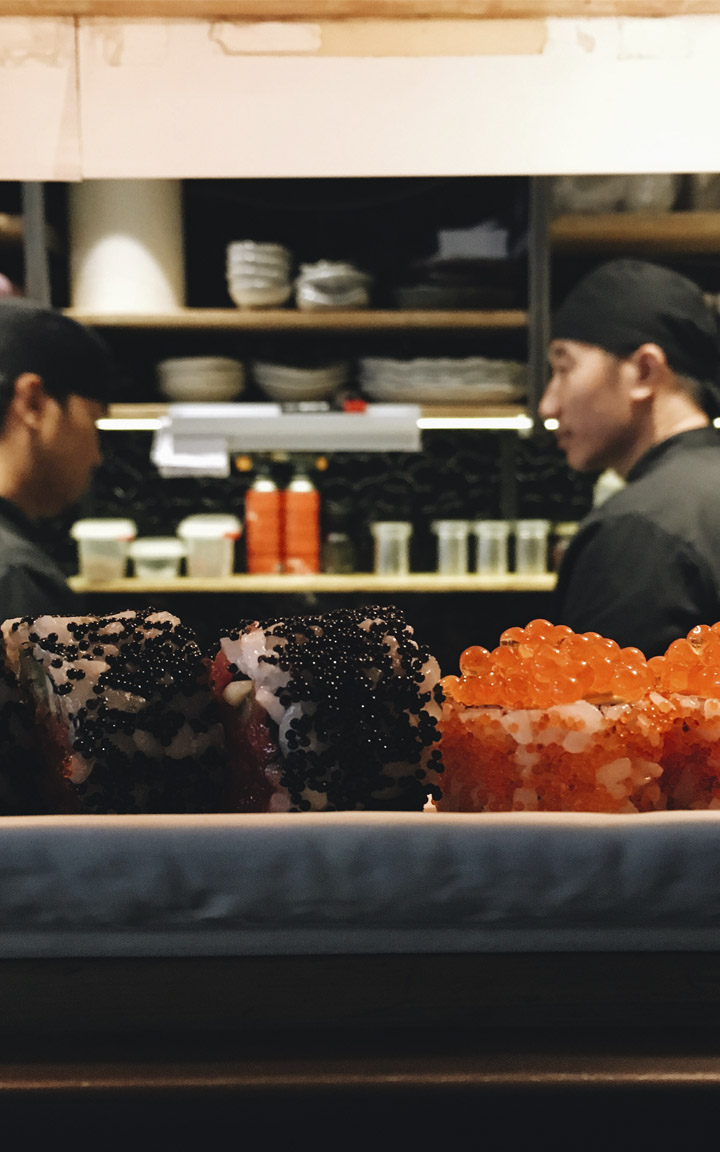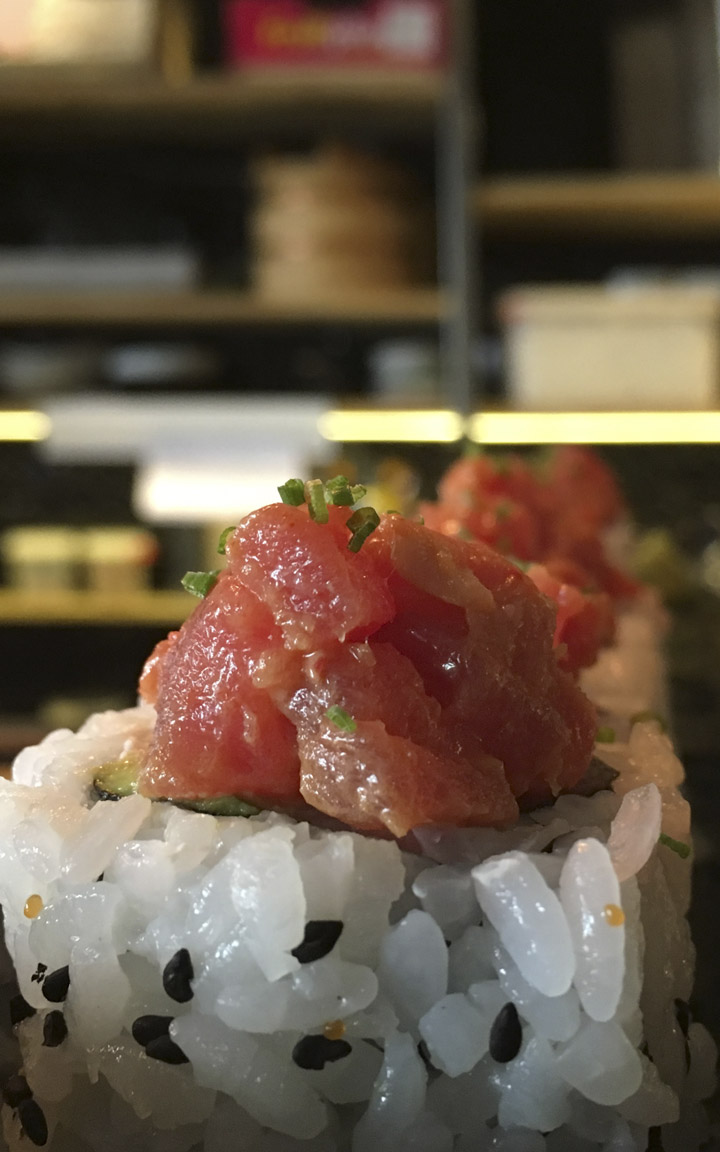 The traditional soy sauce
If you are passionate about Japanese cuisine, you should know that there are many sushi sauces, but there is one that never fails: soy sauce. In just a few years, soy sauce has gone from being considered an exotic ingredient to a common element in every kitchen. This "secret ingredient" has the ability to enhance every bite.
However, sushi is not only eaten with soy, there are many sushi sauces that go beyond the traditional soy sauce. Sushi toppings and sauces are fundamental elements to experiment with incredible flavor combinations. At Monster Sushi we have a Latin influence adapted to the Mediterranean palate that combines traditional techniques with high quality local products. If you are thinking of ordering sushi at home in Poblenou, don't miss out on the best sushi sauces.
The anticucho sauce is the perfect accompaniment to our anticuchero roll. A piece of sushi with Peruvian fusion. This Peruvian touch comes from the aji pepper. The chilli pepper is a spicy fruit from South America. There are several types, but the most common are hot and sweet. The flavor is quite potent and you can feel the spicy touch it leaves once you chew and savor it.
Tiger's milk is neither milk nor comes from a tiger. It is a dressing that comes from ceviche: lemon juice, fish juices and the rest of the ingredients. The case of the Nikkei top roll is emblematic. Peruvian sauces enhance the taste experience. Do not stay without trying the great ambassadors of the fusion of Monster Sushi at home in Poblenou.
Are you curious and want to explore these new flavours from home? Order online or by phone and we will take care of bringing your sushi to Poblenou.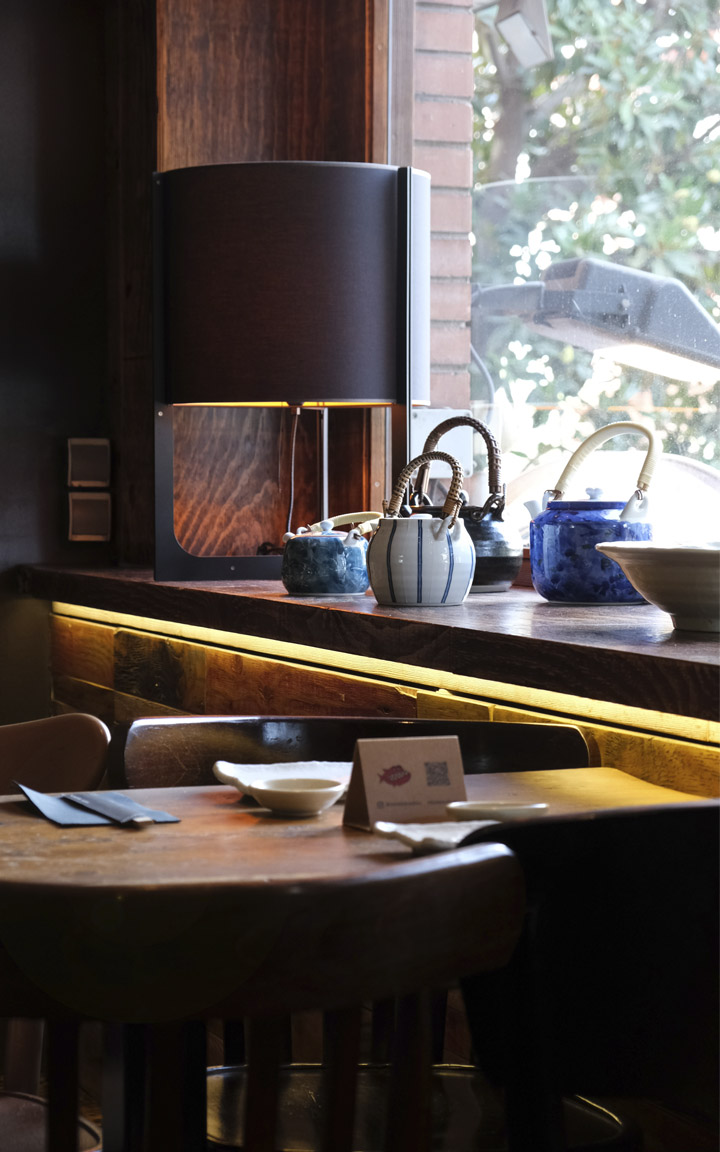 What are you waiting for? Order now!
Don't wait any longer, enjoy the best sushi restaurant in Poblenou at any time and wherever you prefer. Place your order online and receive it at home in a few minutes, the hardest thing will be to choose among all our creations!
Do you have any questions?