If you are near one of our restaurants and you have an irresistible craving for sushi... You have no excuse! We have a TakeAway and Home Delivery service.
Place your order at sushi to go and we'll have it all ready for you when you come to pick it up or better yet... We'll bring it to your home!
In Monster Sushi we surprise our customers through a tasty and original gastronomic offer thought out of and made from the passion, the mixture and respect for Japanese culture in a mysterious and surprising environment that transports you to different corners of the country.
Looking for the best take away sushi in Barcelona? Monster Sushi is the perfect solution to enjoy take away sushi in Barcelona.
With our take away sushi service, you can enjoy the best rolls, makis, nigiris and other traditional Japanese dishes at home, at work or at an impromptu meeting with friends. Even surprise with a sophisticated menu at your next family dinner.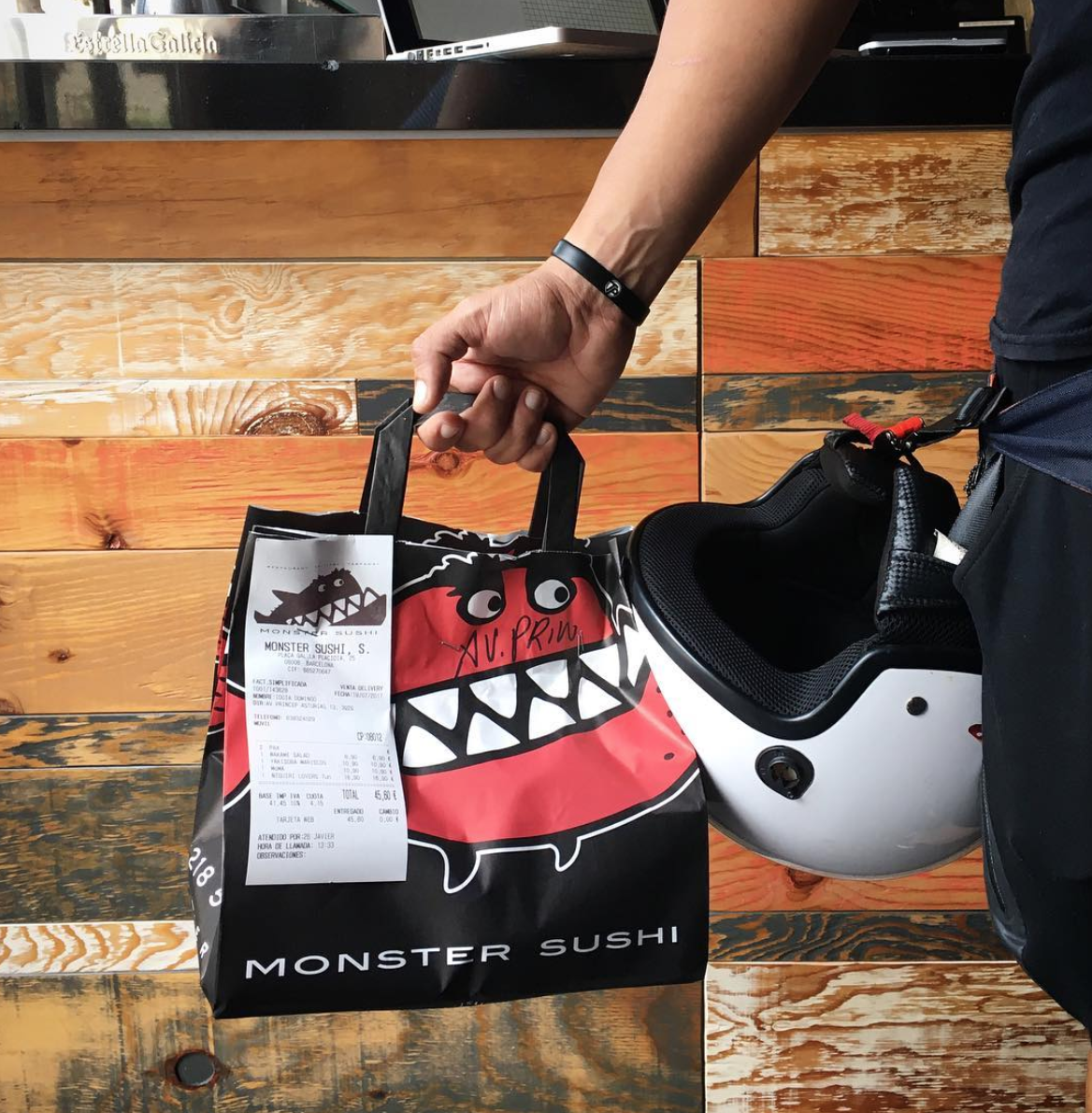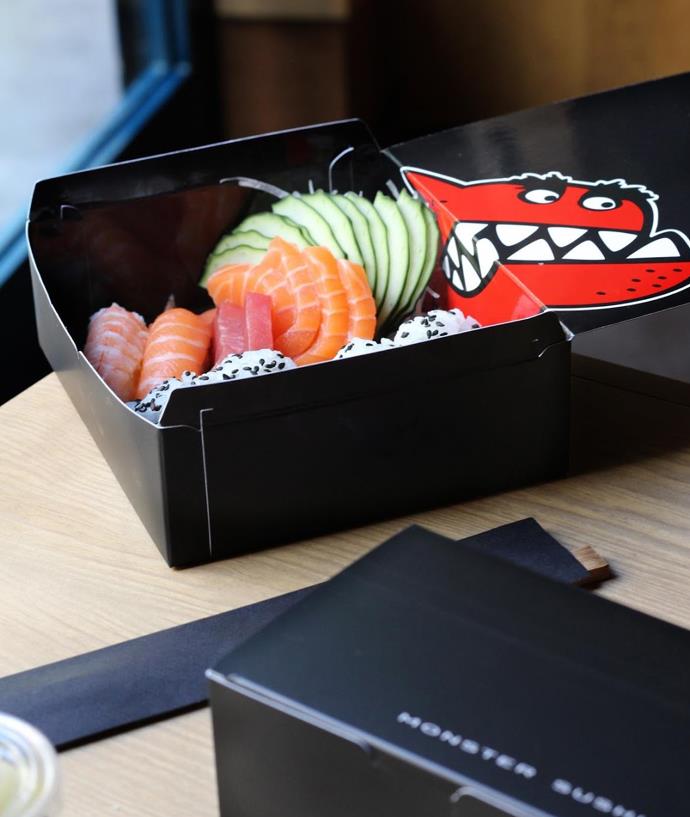 Sushi take away in record time
Our team of professionals, with sushi chefs trained in Japan and the United States, prove that combining quality and speed is possible. Using top quality products, we will prepare your sushi to take away in Barcelona in a meticulous and exquisite way.
In addition, we have our own in-house delivery staff, who treat our dishes with the same care as the waiters inside the restaurant. This guarantees that your takeaway sushi order will meet Monster Sushi's similar quality standards, wherever you eat it from.
The delivery time starts from when you placed your order until you received it will approximately be 45 minutes. If you need your order to be ready at a specific period, we recommend you place your order in advance and select the delivery hour. This way, you make sure that your sushi delivery in Barcelona arrives just in time for lunch or dinner to Avoid Waiting!
What do sushi lovers think?
We select the best raw materials for our dishes, because we know they make a difference.
Diversity and mixture add value. Our dishes fuse Japanese, Latin and Mediterranean food.
Our sushi chefs always aim to achieve excellence in the execution of each dish.
The care of every detail, from the plating, packaging and customer service, represents us.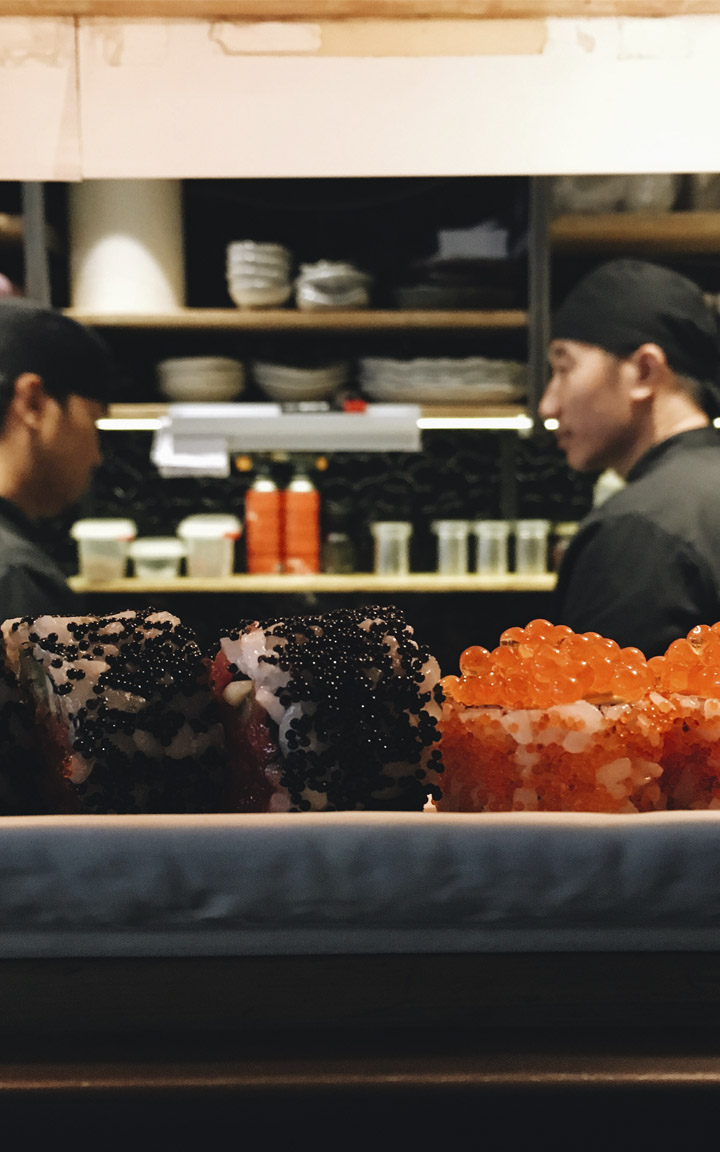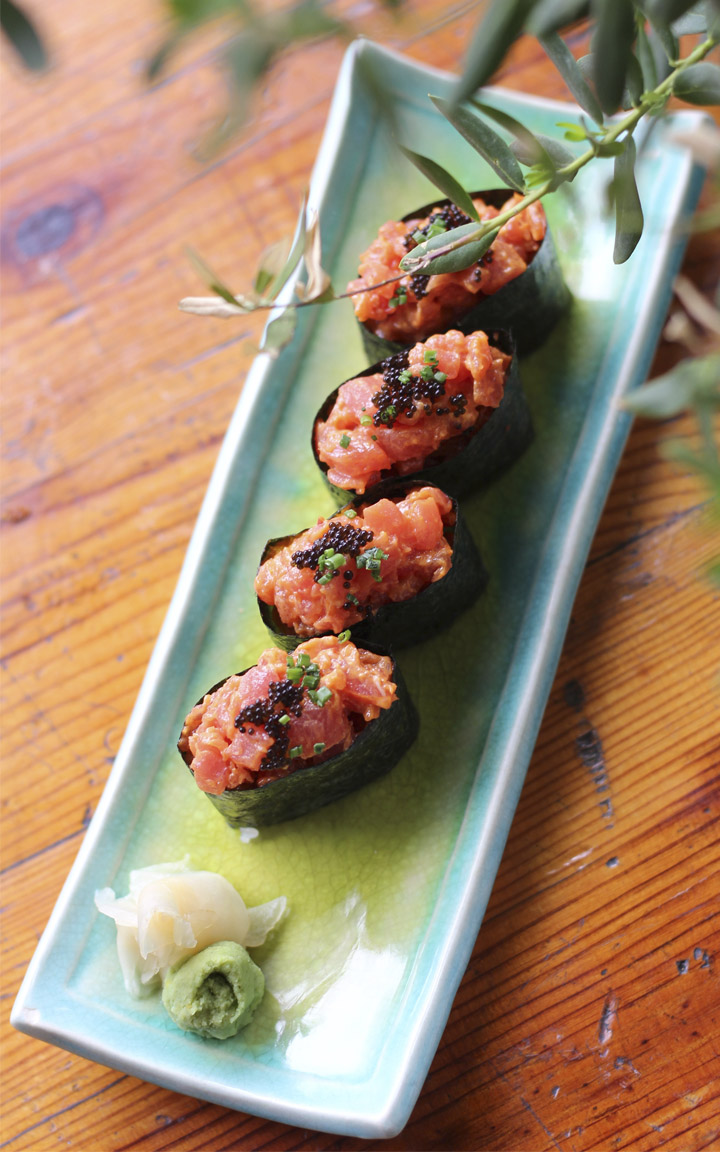 Our recommendations of sushi to eat at home
The menu of our Sushi Delivery restaurant in Barcelona is very extensive, so we understand that some people may find it difficult to decide which dishes they want to try. If this is your first time at Monster Sushi, let us recommend our most popular dishes: they never fail!
If you're planning a lunch or dinner in a group and you're not sure which rolls to choose, there's no better option than a combo - or several! Try our most popular rolls, nigiri or makis, specially chosen for you to taste the best of our menu. With a selection to suit all tastes, everyone is sure to find their favorite. It is definitely one of the most requested sushi takeaway dishes in Barcelona for large groups.
The rainbow roll is one of the most eye-catching and colorful on our menu. Inside you will find crab, cucumber, cream cheese and avocado, but what really distinguishes this duck is the assorted sashimi and avocado slices that surround each piece. An original explosion of color and flavors that will make every bite unique. If you are thinking of ordering sushi to take away and you are not able to choose a single roll, the Rainbow is perfect for the most indecisive.
If there is something that characterizes the cuisine of Monster Sushi is fusion, diversity and mixture. Proof of this is our Nikkei roll, which fuses the traditional technique of Japanese cuisine with ingredients and sauces typical of Peruvian cuisine. It is an urumaki stuffed with tempura prawns and avocado, covered with tuna sashimi and bathed in leche de tigre sauce, which gives it a mild spicy touch.
The mixture of tuna, strawberry and cream cheese may sound strange to you if you've never tried one of our most popular rolls: the sexy tuna. But there's no doubt that it's one of our favourites, as some people order this sushi to-go dish again and again. Would you like to order it?
We could not leave behind the classic roll par excellence. If you've ever eaten sushi delivery in Barcelona, surely the California roll was part of the menu. But if you haven't tried Monster Sushi's, you don't know what you're missing! And, how could it be otherwise, we have given our special touch to this popular roll. We prepare it with salmon or crab, but we add avocado and cream cheese to give it a creamy touch and a much more intense umami flavour. The small fish roe on the outside gives it an irresistible touch of color. Include it in your takeaway sushi order and it won't disappoint.
Sometimes simplicity is the best option. If you don't want to experiment with new flavors and prefer to stick to more traditional Japanese recipes, maki and nigiri are the perfect alternative for your take away sushi order in Barcelona. These dishes, despite their apparent simplicity, require great skill on the part of the sushi chef to achieve the perfect texture and consistency of the rice. Also so that the cut of each piece of fish is perfect. There are no distractions: the quality of the product and excellent preparation are the only secret.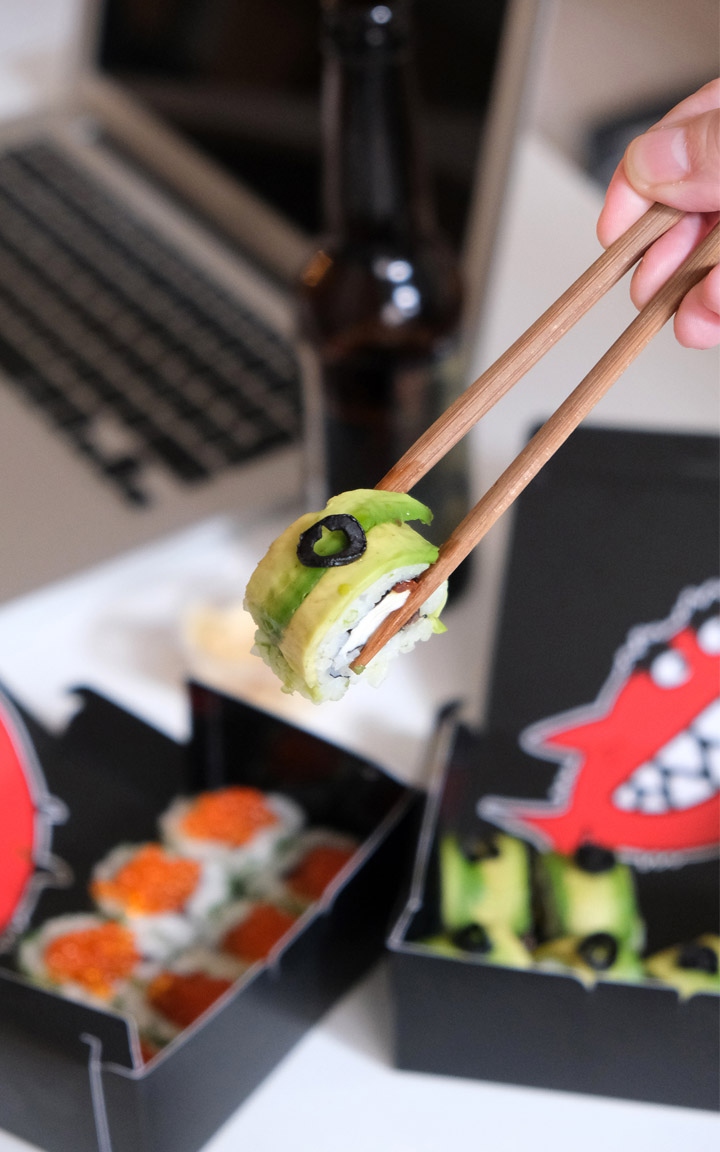 Place your order and enjoy!
Don't wait any longer, enjoy the best sushi to take away from Barcelona at any time and wherever you prefer. Place your order online and you will have it at home in record time. The most difficult task will be to choose which of our delicious dishes you are going to decide!
Do you have any questions?